'Intersectionality in primary prevention' builds on Safe and Equal's commitment to intersectionality and aims to draw on existing knowledge and experience in applying an intersectional analysis and approach to the prevention of family and gender-based violence.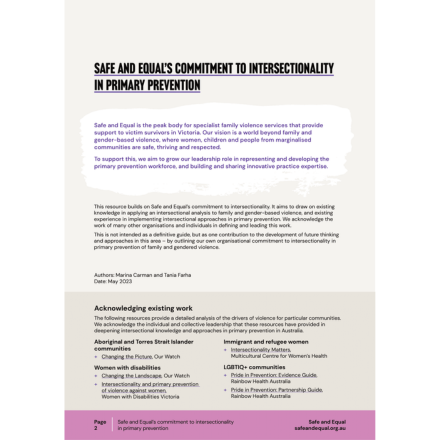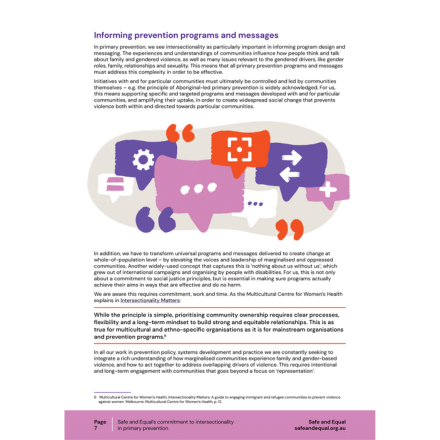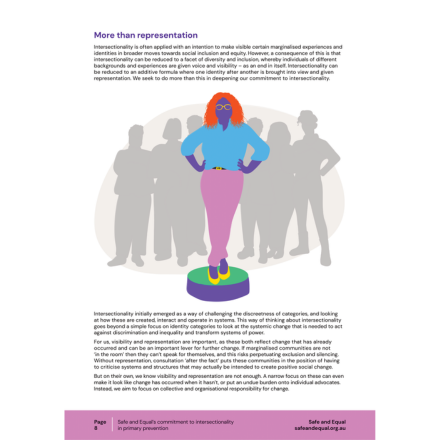 Safe and Equal's commitment to intersectionality is a guiding principle of our work as an organisation. 
An intersectional approach means we, as an organisation, take action to ensure primary prevention programs, systems and policies recognise and address multiple forms of oppression and disadvantage that exacerbate the experiences of gender inequality and gender-based violence. 
We acknowledge the work of many other organisations and individuals in defining and leading this work. This is not intended as a definitive guide, but as one contribution to the development of future thinking and approaches in this area – by outlining our own organisational commitment to intersectionality in primary prevention of family and gendered violence. 
Acknowledging existing work
The following resources provide a detailed analysis of the drivers of violence for particular communities. We acknowledge the individual and collective leadership that these resources have provided in deepening intersectional knowledge and approaches in primary prevention in Australia.
Resource details
Resource type: Guide
Download file type: 6-page PDF
Best print size: A4
RELATED
RESOURCES