This month, we spoke to Starlady, Program Manager from the Zoe Belle Gender Collective, about her vital work in training, educating and consulting the family violence and primary prevention sectors on LGBTIQA+ inclusive service provision.
What is your professional background? How did it lead you to prevention work?  
I've worked within the LGBTIQA+ sector for the last 10 years delivering training, education, and consultation on inclusive service provision and advocating for LGBTIQA+ rights, especially trans and gender-diverse rights. Over the last few years, we've seen significant shifts within the prevention of violence sector in developing LGBTIQA+ cultural competency and inclusion. Our understanding of the intersection of drivers of violence against women and LGBTIQA+ people has significantly developed and there are growing partnerships between our sectors.
The Zoe Belle Gender Collective (ZBGC) has been a part of this shift through our relationship with Rainbow Health Australia who have both consistently consulted with us in the development of resources, such as Pride In Prevention, but also supported our organisation to develop our capacity to work within a prevention framework.
When did you become passionate about gender equality? 
Addressing transphobia, biphobia and homophobia has always been a part of my life. So much of the violence I've experienced across my life has consistently been perpetrated by cis men. However, when I started dating cis men after affirming my gender identity as a trans woman/feminine person I experienced significant objectification, fetishisation, and sexual exploitation/violence.
I quickly learned that I wasn't alone in my experience and that many of the trans women/feminine people around me who dated cis men had very similar experiences. In discussing the supports and resources available we felt that we were being left behind. We didn't see ourselves reflected in the campaigns addressing gender-based violence, or feel that there was an understanding of the unique issues we faced.
Tell us a bit about what you're working on now: 
I'm leading a project called Transfemme – it's both a campaign and website aimed at promoting healthier relationships between trans women/trans feminine people and cis men. The content of the website is drawn from 30 confidential interviews I conducted in mid-2021 and covers topics such as the fetishisation and objectification of trans women/feminine people, navigating consent and pleasure, passing and beauty myths, "coming out" to family and friends, the impacts of gender stereotypes and rigid gender roles, and the impacts of shame and stigma on cis men.
Although the website is targeted towards trans women and cis men we're hoping in the next year to create new content aimed at their family and friends, noting that transphobia is a driver of violence.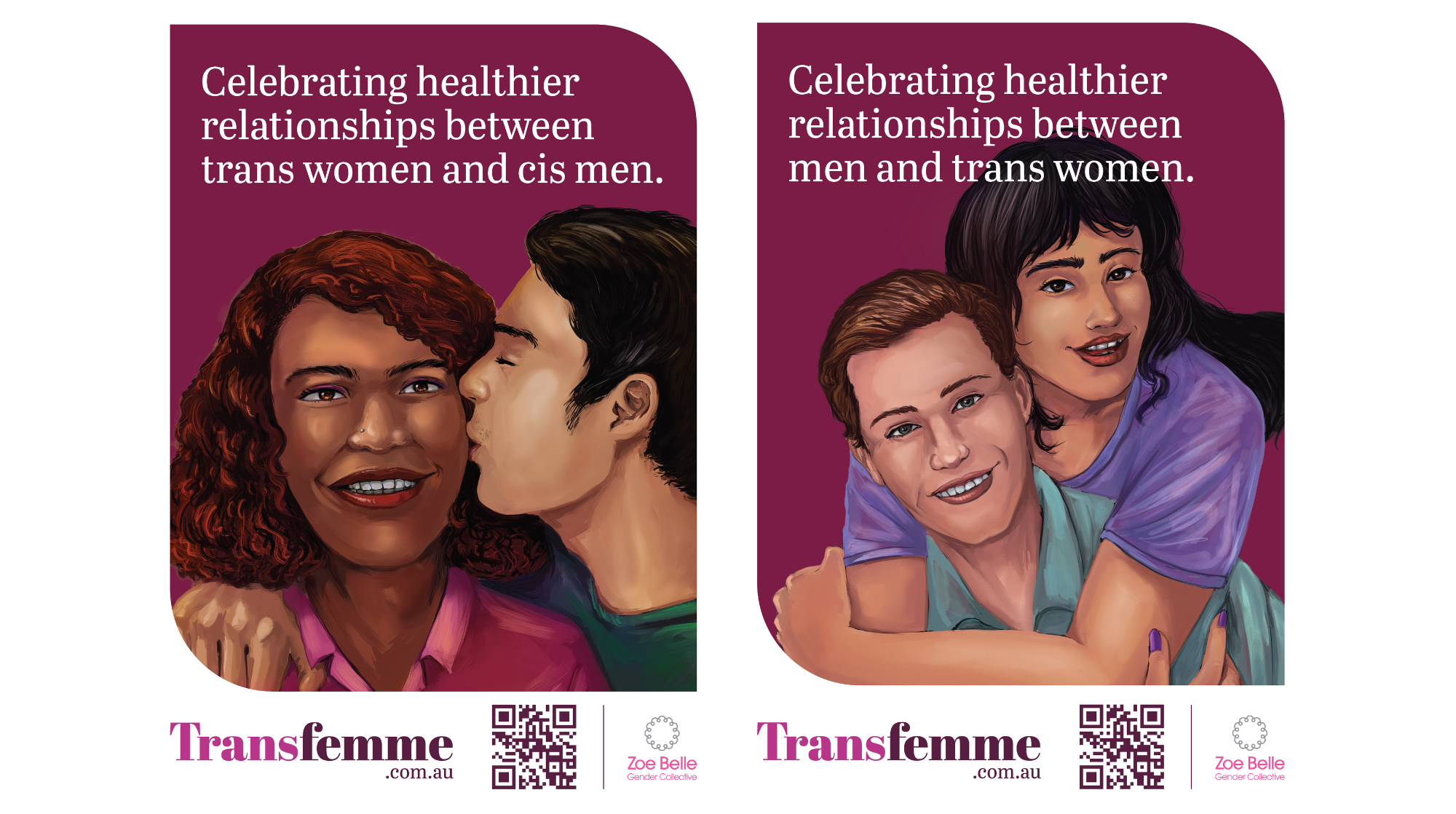 What skills do you use in your role? 
Community development is central to my work, and building and maintaining direct relationships with both community and service providers is essential. We have an advisory group of both trans women/feminine people and cis men that drives Transfemme; in particular, there's a collective of trans women of color who are very talented advocates.
Professionally we're often talking about platforming people with lived experience, but we want to support the community to develop their skills and ensure their safety and wellbeing in the process. That takes time, resources and commitment. Community support, and equally our advisory groups invaluable knowledge and expertise, are central to maintaining high-quality and culturally appropriate resources and messaging.
What do you like about working in primary prevention? What drew you here? 
It's very personal. I want access to healthy relationships like any other person in our society. Unfortunately, transphobia, stigma, and shame impact my relationships. Many of my intimate relationships are secret and hidden. Working in prevention helps me take back my power and gives me hope for the future, not just for myself but also for my community and the people I care for.
What have you found useful in the work that Safe and Equal do to support prevention workers?  
I've found the resources that support practitioners in understanding and responding to LGBTIQA+ people's experiences of family violence incredibly helpful. I often hand out their tip sheet "Top tips for inclusive responses to Lesbian, Gay, Bisexual, Trans and Gender Diverse, Intersex, Queer and Asexual (LGBTIQA+) People experiencing family violence" in our training sessions. There are significant missing gaps within resources to respond to LGBTIQA+ people's experiences of family violence, and I appreciate the continuing efforts of Safe & Equal in being committed to addressing these gaps in their conferences and events.
My favorite resource we developed with Safe and Equal and Rainbow Door was a webinar talking about our website Transfemme and addressing cis men's violence against trans women/feminine people. In particular, Safe and Equal prioritised the voices of trans women of colour and gave our team a platform to talk about our unique experiences.
Watch the webinar below and download the PowerPoint slides here.
What advice do you have for someone new to the PVAW sector?  
Read Transfemme and Pride In Prevention and reflect upon how trans women fit into gender equity frameworks. Collaborate and develop relationships with trans and gender-diverse organisations. Seek secondary consultation, training, or representatives from organisations such as the ZBGC.
Many of the drivers of violence against trans women/feminine people are the same as the drivers of violence against cis women. Our movements intersect, and we can learn from and support one another in our journey to drive social change.
Whose work do you admire?  
The Rainbow Health Australia team because of their ongoing commitment to support the work of Transfemme, their whole team really went out of their way to ensure our team could thrive in our advocacy. It was a real pleasure to work with people who treated us with the professional respect we deserved, were open to critical feedback and creating innovative solutions.
For more information about the Zoe Belle Gender Collective and Transfemme, contact Starlady here.