Safe and Equal is proud to partner with specialist organisations Djirra, Berry Street's Y-Change Lived Experience Consultants, Switchboard, inTouch, Women with Disabilities Victoria, Seniors Rights Victoria, and Flatout to develop a suite of practitioner resources to support tailored and inclusive responses to family violence occurring across diverse communities and contexts.
Family violence is an intersectional social problem with far-reaching impacts that reinforce structural disadvantage and marginalisation across many different communities.  
While family violence can impact anyone, there are social, structural and systemic barriers caused by historic and ongoing discrimination that has seen certain groups excluded from or unable to access services, government programs, and equitable justice responses. Ageism, ableism, colonisation, criminalisation, homophobia, poverty, racism, sexism, transphobia and other forms of discrimination can all increase the severity and lasting impacts of family violence. 
To disrupt these barriers, responses to family violence must be inclusive, tailored and flexible. Victim survivors of family violence must be understood as the experts of their own experiences, with their own unique backgrounds, life experiences, perspectives, identities, strengths, hopes and needs. 
We have partnered with seven specialist organisations who support the most marginalised members of our community who experience intersecting forms of discrimination and violence, to provide practice guidance for tailored and inclusive family violence support. 
Read on for more information on each of the resources.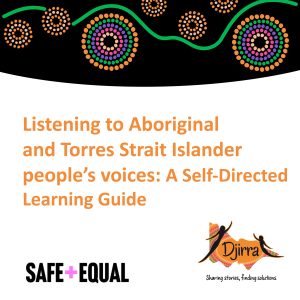 Supporting Aboriginal and Torres Strait Islander people 
This practice guidance has been prepared for family violence workers who are responding to Aboriginal and Torres Strait Islander people experiencing family violence. This may include women and children who are experiencing family violence in the context of intimate partner violence, and/or women and children experiencing family violence in the context of kinship relationships and arrangements. 
This self-directed learning guide has been developed in partnership with Djirra, written from the perspective of an Aboriginal writer with experiences and input from other Aboriginal and Torres Strait Islander women. It is prepared predominantly for family violence practitioners who are not Aboriginal and Torres Strait Islander people. 
This practice guidance is a starting point to spark more questions, think about your own practices, and continue your learning.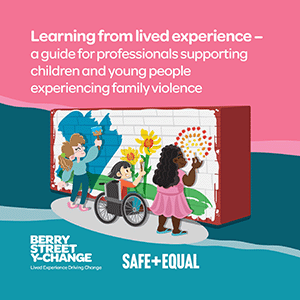 Supporting children and young people 
The voices of children and young people impacted by family violence are often invisible. This guide for family violence practitioners working to support children and young people has been co-produced with Berry Streey's Y-Change Lived Experience Consultants – a group of young people aged 18-30 with lived experience of socioeconomic and systemic disadvantage who challenge the thinking and practices of social systems through their advocacy and leadership. 
The guide explores key considerations for supporting children and young people with lived experiences of family violence and features several practical activities you can do with children or young people accessing your service. The guide is complimented by a colouring-in activity that was also co-produced by Y-Change. The artwork and colouring-in activities were created by artist and illustrator, Chadai Chamoun.  
Find out more about Y-Change's work here.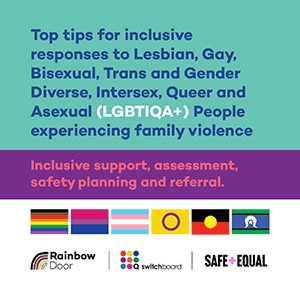 People of all genders, sex and sexual orientations can experience family violence. Many lesbian, gay, bisexual, trans and gender diverse, intersex, queer, and asexual or aromantic people have family violence experiences that mirror those within heterosexual and cisgender families and relationships. 
Because of biphobia, homophobia, transphobia, heterosexism and heteronormativity, there are also some distinctly different risk factors and barriers to support experienced by LGBTIQA+ people.  
We've partnered with Switchboard Victoria to develop a tip sheet to help practitioners responding to family violence provide LGBTIQA+ inclusive support, assessment, safety planning and referrals. 
Switchboard Victoria is a community based not for profit organisation that provides a peer-based support service for LGBTIQA+ people and their friends, families and allies.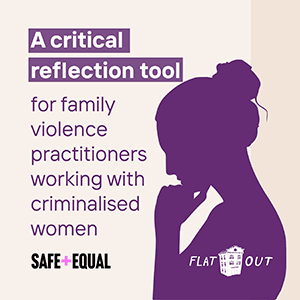 Victim survivors who have been criminalised experience high rates of family violence and trauma, and the severity and impacts of this can be significant.  
The term 'criminalised women' is used to encompass women who have been imprisoned, have had contact with police for other matters, and/or who engage in criminalised activities such as illicit drug use or sex work.  
Victim survivors whose experiences of family violence intersect with their experiences of being criminalised, including experiences of incarceration, may experience discrimination in the family violence response system. This can increase their risk and impact their access to safety and support. 
Flat Out is a state-wide homelessness support and advocacy service for women who have had contact with the criminal justice and prison system in Victoria. They are an independent, not for profit, community-based organisation that is managed by and for women. Flat Out is committed to co-creating safer spaces, fostering support and self-determination for sistergirls, intersex, transgender and gender diverse women. 
To support services and practitioners to provide safe and inclusive responses to criminalised women, we have partnered with Flat Out to develop a tip sheet to help family violence practitioners understand systemic harm and violence and resist systemic collusion.  
The tip sheet is accompanied by a poster for display in a service. The poster is aimed at criminalised women and seeks to empower them to access the tip sheet and provide it to a service or practitioner they are working with. 
Criminalised women informed and shaped this resource, and we thank them for generously sharing their knowledge and experiences.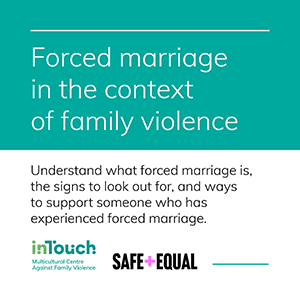 Supporting people from migrant and refugee communities 
Family violence is widespread and is not inherent to any culture, country, or community. Victim survivors from migrant, refugee, and asylum-seeking backgrounds experience the same forms of family violence as the broader community. 
Because of racism, discrimination, language barriers, and differences in cultural contexts, people from migrant and refugee communities in Australia can be disproportionately impacted by family violence because they face some distinct risk factors and experience additional barriers to support. 
inTouch Multicultural Centre Against Family Violence is a specialist family violence service that works with women from migrant and refugee backgrounds in Victoria, including women who have experienced forced marriage.  
Forced marriage is a violation of human rights, a slavery-like practice, and a form of family violence that affects many people – especially women – in our community. While forced marriage is recognised by the Family Violence Protection Act 2008 (Vic), it has been acknowledged that the family violence system needs to improve capability to identify and respond to forced marriage in the context of family violence. 
To support this, we have partnered with inTouch to co-design a tip sheet to help family violence practitioners understand what forced marriage is, the signs to look out for, and best ways to support someone who has experienced forced marriage. This practice guide draws on the position paper Forced Marriage in Australia, published by InTouch in June 2021.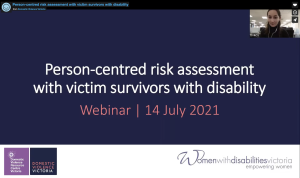 Supporting people with disability 
In July 2021, we partnered with Women with Disabilities Victoria to deliver a webinar on person-centred risk assessment with victim survivors with disability.  
Facilitated by Keran Howe, panelists from Women with Disabilities Victoria's Experts by Experience Group, the Office of the Public Advocate and family violence practitioners contributed their diverse perspectives and experiences. Together, they explored compounding risk factors and barriers to safety that people with disability experience. 
The webinar also explored ways specialist family violence practitioners can adapt their practice to ensure people with disability feel safe, heard and supported during risk assessments.
If you are supporting someone who is older or lives with an older person, it is vital you can recognise elder abuse and respond appropriately. 
Evidence shows there is a high prevalence of elder abuse perpetrated by adult children, and this can be a complex context for practitioners to support the safety and wellbeing of elder victim survivors.  
We have developed this resource in partnership with Seniors Rights Victoria, a specialist service that provides information, support, advice, and education to help prevent elder abuse and safeguard the rights, dignity and independence of older people. 
Seniors Rights Victoria identified that practitioners would benefit from increased guidance to support them to identify elder abuse, and to uphold the rights and safety of older people in intergenerational households – particularly when the older person may not be the primary client of the service.