Safe and Equal has a role in leading efforts to embed the voices of victim survivors in all parts of the family violence system.
This paper seeks to build on the findings of the Family Violence Experts by Experience Framework research to define and explore different sources of lived experience which inform the work of the family violence sector.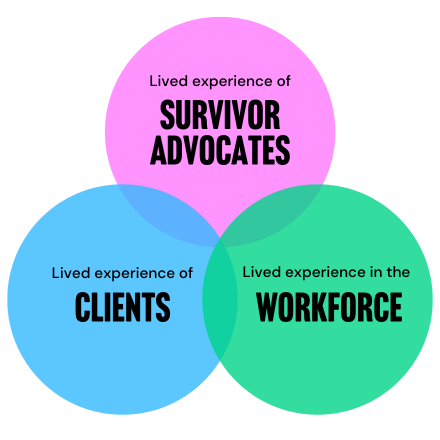 Building on the research and findings in the Family Violence Experts by Experience Framework, and with the goal of embedding the lived experience of victim survivors within the peak and the broader specialist family violence service sector, this issues paper seeks to explore and understand the different sources of lived experience and how they can be harnessed and integrated into our work.
The specialist family violence sector is broadly underpinned by an intersectional feminist framework. In the context of embedding lived experience, it is essential to understand the significance and importance of engaging multiple forms of knowledge: the diversity of lived experience. This paper explores three different but equally valuable and reinforcing ways that lived experience can be embedded within the specialist family violence sector.
Lived experience in the workforce refers to individuals who work in the sector as practitioners, leaders, advisors, researchers, administrators, and in many other roles. This lived experience is the backbone of family violence specialisation, with its origins in the personal experiences of women who were instrumental in establishing the first refuges and support services for women and children. However, as the sector has become more professionalised, lived experience in the workforce has become less visible. It is important to acknowledge that while lived experience in the workforce is not essential, it should be recognised and viewed as valuable, meaningful and a strength of the sector.
The lived experience of clients, also known as client voice, is integral to the growth and strengthening of service delivery. Specialist family violence services are wholly accountable to the clients they support. Client knowledge and experience is a valuable asset for services to learn from and helps paint a collective picture of many different experiences and journeys through the system.
The third source of lived experience this paper explores is the lived experience of survivor advocates – those who apply lived experience to formal activities to influence policy development, service planning and practice, and contribute to broader systems reform, social change and community awareness. Despite issues around resourcing and sustainability, engaging survivor advocates in projects of any scope and size can have significant and invaluable impact and can contribute to the identification of systemic gaps and service improvements.
None of these sources can exist as representative of all lived experience – nor are any more valuable than any other. There exist multiple ways for the lived experiences and expertise of victim survivors of family violence to be embedded and drive the work of the sector. This paper encourages an understanding that all sources of lived experience are necessary to ensure responses to family violence are effective, inclusive, and safe.
In considering the progression of this work, we must acknowledge and understand that differing levels of access to power mean that different sources of lived experience are not representative of each other. Utilising a 'power with' approach, as well as co-production with clients and survivor advocates, provides a way to distribute power more evenly and provides those with lived experience more opportunities to lead and contribute to decision making.