We all deserve to feel safe and protected at home. But for some of us, home is not always a safe place…
If you're experiencing abuse, you do not have to face this alone. These Are You Safe at Home? resources have been translated into English.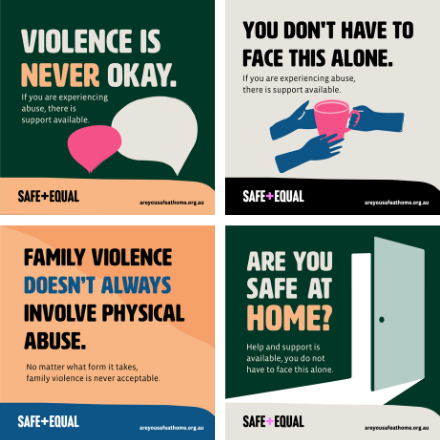 Family violence is when a partner, family member or ex uses threatening, controlling or violent behaviour that makes you feel scared or afraid. Family violence is not just physical violence. It can involve many harmful, abusive behaviours. No matter what form it takes, family violence is never acceptable.
If you are experiencing abuse, there is support available. The services on the flyer and on the Are You Safe at Home? website can help. They can work with you to explore your options to keep you and your family safe.
If you are in immediate danger, call the police on triple zero (000). If you need an interpreter or translator, call the National Translating and Interpreting Service on 13 14 50 and ask them to contact the support service.
Safe and Equal's Are You Safe at Home? resources have been translated and published in 15 different languages, including Arabic, Chinese (Simplified), Chinese (Traditional), Dari, Farsi, Greek, Hindi, Italian, Karen, Khmer, Macedonian, Punjab, Somali, Turkish and Vietnamese.
For more information about tailored support services for LGBTIQ+ people, Aboriginal and Torres Strait Islander people, older people, men who have experienced family violence and people who have experienced sexual assault visit areyousafeathome.org.au